Cattle Guard Forms are by far the least expensive way to keep your herd at home.




They are also the safest cattle guards on the market. Our Hoof Stop Technology prevents injury because the animal's hoof cannot fall through since there is no pit!
US Patent # US 9,707,697 B1



Metal Cattle Guards:
Dangerous and Expensive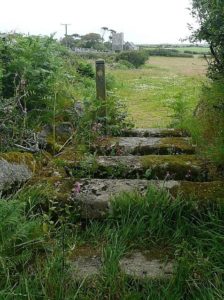 The earliest cattle guards were originally constructed near Cornwall, England in pre-Roman times perhaps as early as 150 BC. Farmers often had paths crossing their fields, and created granite stiles (esentially stairs over a fence) so that people could pass, but not livestock. One enterprising farmer figured out that livestock wouldn't walk across stones spaced out over a hole dug in the ground, while people could easily pass. The Cornish cattle guard shown is ancient group of granite slabs over a pit to keep livestock in their own field still used today.
Since that time the cattle guard has taken many forms. In the US the building of the railroads spurred much ingenuity with devices allowing trains to pass through ranches and ranges. With the coming of automobiles and trucks, the first patent for a metal cattle guard was issued in 1915, to William J. Hickey, of Reno, Nevada,
From that time until now the vast majority of cattle guard designs have one thing in common, the pit. Modern steel cattle guards often feature a pit so deep that an animal unfortunate enough to test, or try to jump over, the guard will have their leg sink into the pit, trapping the animal. The ensuing struggle to get out of the cattle guard often results in a broken leg, and euthanization.
Expensive To Buy, Ship, And Install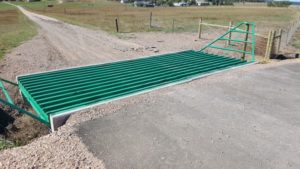 Loosing valuable livestock to dangerous "guards" is bad enough, but the cost of installing old school metal gate guards is even worse! For example, a metal guard sized 8′ x 14′ sells for just under $5,000, and that's before the suggested 6″ concrete foundation, and other suggested hardware. And shipping? You don't want to know because it is going to run you hundreds more.
See, UPS and Fed-Ex don't deliver heavy items like that, so they have to be shipped by common carrier. That's the fancy commercial term for hire a truck and driver, who is usually ill equipped to unload the steel cattle guard. You're going to need a forklift attachment for your tractor for that.
So, there you are, thousands of dollars out of pocket, now all you have to do dig a trench, set up forms, pour concrete for the foundation, then install the metal grid. Seems easy enough.
But There Is A Better Way!
Cattle Guard Forms' Patented Technology
Saves Money, And Your Herd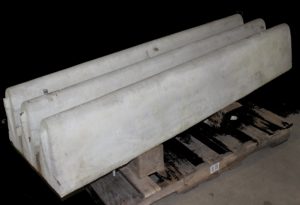 Cattle Guard Forms has developed and patented a unique method of creating extremely durable HS-20 certified concrete cattle guards right there on your farm. The cost is a fraction of metal guards, and because there is no pit, all of our products feature Hoof Stop Technology that will not injure curious cows. The openings of all our cattle guards taper down to two inches, providing maximum discouragement to cattle without the risk of serious ingury when a leg falls through because there is no pit to fall into.
There are two models: the original Texan, and our newest product, The Cow Stop.