Engineering Makes Us Tough Duty Strong!
Do you know what specifications steel cattle guards are engineered to meet? Frankly, many of the folks who sell them don't even know themselves. Cattle Guard Forms are designed and certified by Professional Engineers to meet or exceed HS-20, a specification used by the Federal Government in designing highways and bridges. HS-20 is also used by the US Military in designing structures that will safely support our fighting machines, and keep the Troops rolling.
What is GFRP?
One disadvantage of concrete cattle guards today is the steel reinforcing rods (rebar) embedded in the concrete. Rebar gives concrete its tensile strength, however, as with any steel if it's exposed to water and moisture it will corrode and over time cause cracks which compromises the structural integrity of concrete.
In this day of advanced materials, steel rebar is obsolete! Stronger than steel, and rust proof, Cattle Guard Forms are engineered with Glass Fiber Reinforced Polymer (GFRP), the most advanced concrete reinforcement on the market today. We pre-install our rigid LLDPE Polyethylene form with super strong, lightweight GFRP rebar in every cattle guard we sell.  GFRP offers a tremendously high strength to weight ratio.  Even better, GFRP is highly resistant to salt water corrosion, chemicals, rust, or whatever the environment can throw at it.
Research in 12 countries, and over 70 universities have studied and confirmed the numerous advantages to GFRP reinforced concrete versus steel reinforced concrete. Field studies and laboratory research have discovered that GFRP rebar dramatically reduces concrete corrosion, cracking and breaking. Research confirms that GFRP reinforced concrete structures will last anywhere from 4 to 20 times longer than, steel reinforced concrete structures.
No Other CONCRETE CATTLE GUARD On The Market Today
Offers Corrosion Resistant GFRP Rebar
Each Cattle Guard Form is engineered to have two (2) bars of 5/8″ GFRP rebar within each channel beam to achieve better than an HS-20 rating.  Don't let the light weight of GFRP fool you. Even though GFRP is only 1/4 of the weight of steel, it boasts twice the tensile strength!
Why Cattle Guard Forms instead of steel?
Because our tough roto molded form is extremely light weight, even with the pre-installed, lightweight 5/8″ GFRP rebar, our 8′ x 6′ form only weighs 140 lbs.  Most similar sized steel cattle guards weigh in around 1,200 lbs., making shipping expensive. And remember the offload is your responsibility.
So, how does this concrete cattle guard form work? First, set the form into place. Then once concrete is poured into the form, you're done.  We've made the pouring easy and painless too.  The form simply accepts concrete ANYWHERE over top as you simply rake the concrete into the open beams. The 5″ gaps are covered and secured with foam blocks so concrete only flows into the form.
It only takes about 1/2 hour for a concrete truck to slowly pour 1 1/2 cubic yards of concrete into the form. There's no need to remove the form from the concrete or flip the form to pop the concrete out. Form and concrete cure together as one so once it's poured… You're done! And you can brag you got more cattle guard for a lot less money.
The Truth About Steel Pipe Cattle Guards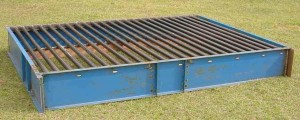 Steel cattle guards whether 'economical' or HS-20 rated may be 'engineered' but they're rarely certified by a Professional Engineer. Pipe on cattle guards should be at least 4″ in diameter at a minimum, but you'll often find 3″ and even 2 1/2″ sizing which will not support much more than a light pick-up.   Be careful of lower grade, repurposed, unpainted or unprotected steel as it will corrode much faster than painted steel.
Right now most steel cattle guards for sale are offered either with or without a box frame.  Simple cattle grids without a box frame are often called 'flat cattle guards' and will typically have 4 channel beams underneath as support for the pipe overhead.  Flat cattle guards will need to sit on a concrete footing; whereas boxed cattle guards will not.
In fact most steel cattle guards need to rest on a concrete footing or foundation since the supporting channel beams underneath are obviously too narrow to set on bare ground.  Notice that some 'flat' cattle guards will only sit  6 to 7 inches off the ground (some actually resting on the ground!) making it much less of a cow deterrent.
We've seen, and have tried a few home-made cattle guard gimmicks, everything from wood slats to painted stripes, cinder blocks to 4″ highway guard railing, not to mention a few other embarrassing optical illusions.  They work temporarily until a calf gets spooked or the herd discovers greener pastures just over the other side.
In the end all the cow deterring gimmicks, tricks, and short cuts simply fail. Our engineering has revealed a few simple truths. To be effective a cattle guard must be 10 to 12 inches in height, and not less than 6 feet from front to back. Beams separated by 5 inch gaps have proven to be the most effective and safest cow deterring cattle guard design.
Steel cattle guards may be 'traditional' but they're extremely heavy and expensive, especially when you factor in the shipping, and the concrete footing costs. The weight makes it difficult to off-load from the delivery truck, and most steel companies hold the customer responsible for off-loading with a fork lift or tractor.
Finally, whether painted or exposed, given enough exposure to bad weather, steel cattle guards will rust and corrode at varying speeds. In fact cattle guard corrosion is such an epidemic that it's almost acceptable! Some companies sell rust damaged cattle guards, and of course the ongoing process of rust (oxidation) weakens metal.
A Concrete Cattle Guard Costs Less Yet
It's Stronger and Will Survive Longer
Concrete cattle guards are a better, long term option. Concrete is superior to steel in terms of strength, cost, and longevity.  So, why is the traditional cattle guard constructed from steel? Well, pre-cast concrete cattle guards are almost twice the weight of steel. Farm supply stores, and individual customers simply can't afford the shipping costs, let alone offload that kind of weight.
However, Cattle Guard Forms are lightweight, weighing only 140 lbs. for an 8 ft. by 6 ft. form, even with the pre-installed GFRP rebar! Set it in place, fill with fresh concrete, and never have to move it or pick it up again. You're done!
Why HS-20 Cattle Guards?
Do you know how much weight "economical" steel cattle guards can support? Neither do the retailers selling them! We are proud to say that our Cattle Guard Forms have been tested and certified to deliver an HS-20 (32,000 pounds/axle) load rating.
Most 'economical' steel cattle guards will fail even under marginal loads let alone the stress of a loaded semi, hay wagon or dump truck. With that in mind an HS-20 rated cattle guard will handle about anything you can fit between your gate opening. That's one less thing a farmer should worry about.
By The Way:  An HS-20 load rating means you can have a 5 axle semi truck, with a max gross weight 80,000 lbs. (DOT limit), drive across it without a problem. The rating claims we provide are backed by a certified structural engineer's sealed drawing attesting that Cattle Guard Forms properly placed and poured meet, or exceed, the rigorous standards for HS-20, which are used when specifying highways, bridges, and US Military construction.